written by

Matt Davies
Reading time: 5min
Table of contents
One of the things we enjoy most about visiting our Wildfire Restoration & Rewilding project in Portugal, is the presence of Griffon vultures and black vultures circling overhead as we tree plant. Whether you call them a committee, vault or venue of vultures, these majestic raptors can be found soaring effortlessly in the thermal columns high above the Douro valley. – This is their home, breeding ground and even migration point for the spectacular Egyptian vulture that come north each summer to nest.
The Douro Valley
The tall granite cliffs that surround our reforestation area in the Douro Valley are home to the medieval looking Griffon, the migrating Egyptian vultures and endangered Black vultures. They all scavenge on a range of food from mammal faeces, to insects in dung, carrion, small animals and vegetable matter. Having a forest and ecosystem in this area again will be crucial for their survival.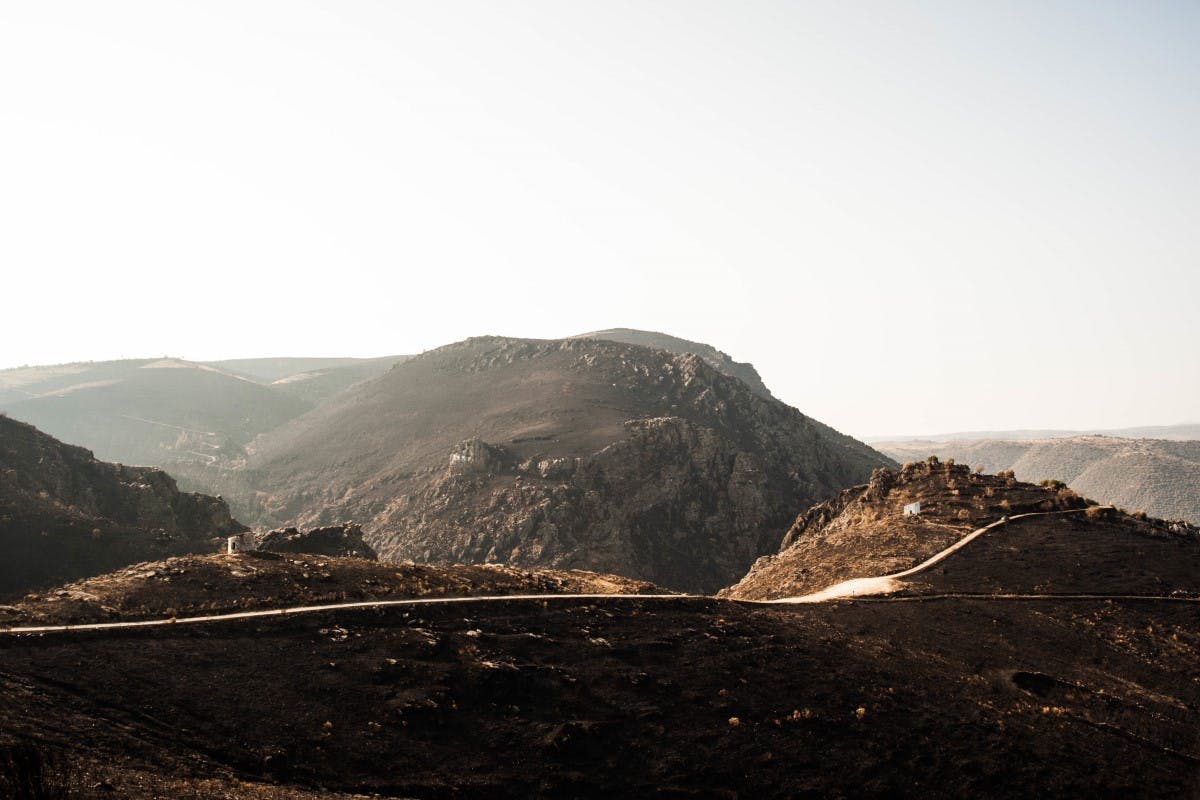 The Griffon Vulture
Тhe Griffon prefers to feed on the softer parts of carcasses, such as the muscles and viscera. Its long neck, allows it to reach far into a carcass without snagging. They are very social in comparison to other vulture species. They are mostly silent but make high-pitched mewing or hissing notes at the nest and screeching noises when squabbling at a carcass.
Did you know? A group of vultures feeding is called a wake, and that the leader of the committee will always eat first with wings spread wide. It is only when it lowers its wings that the other vultures may begin to eat.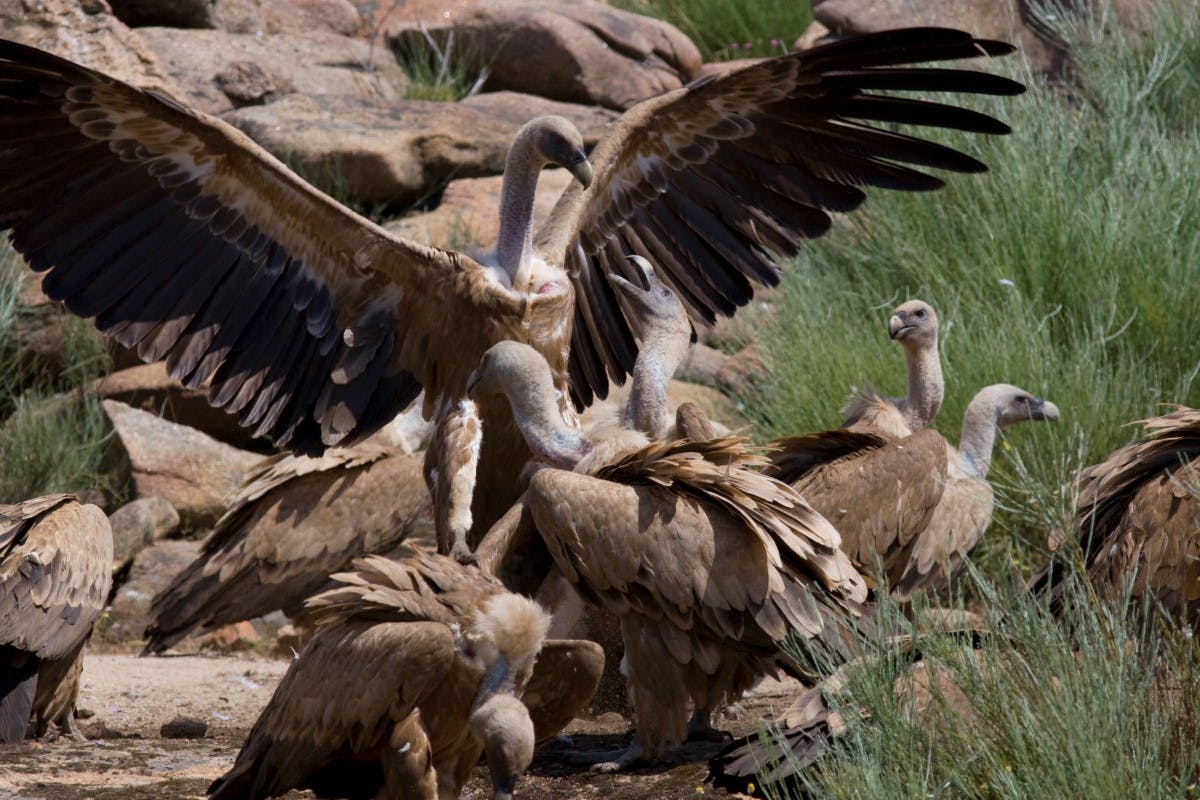 The Egyptian Vulture
The Egyptian vulture, also known as the pharaoh's chicken, is a comparatively smaller vulture. Its contrasting underwing pattern and wedge-shaped tail make it distinctive in flight as it soars in thermals during the warmer parts of the day. Egyptian vultures feed mainly on carrion but are opportunistic and so will prey on small mammals, birds, and reptiles. They also feed on the eggs of other birds, breaking larger ones by tossing a large pebble onto them.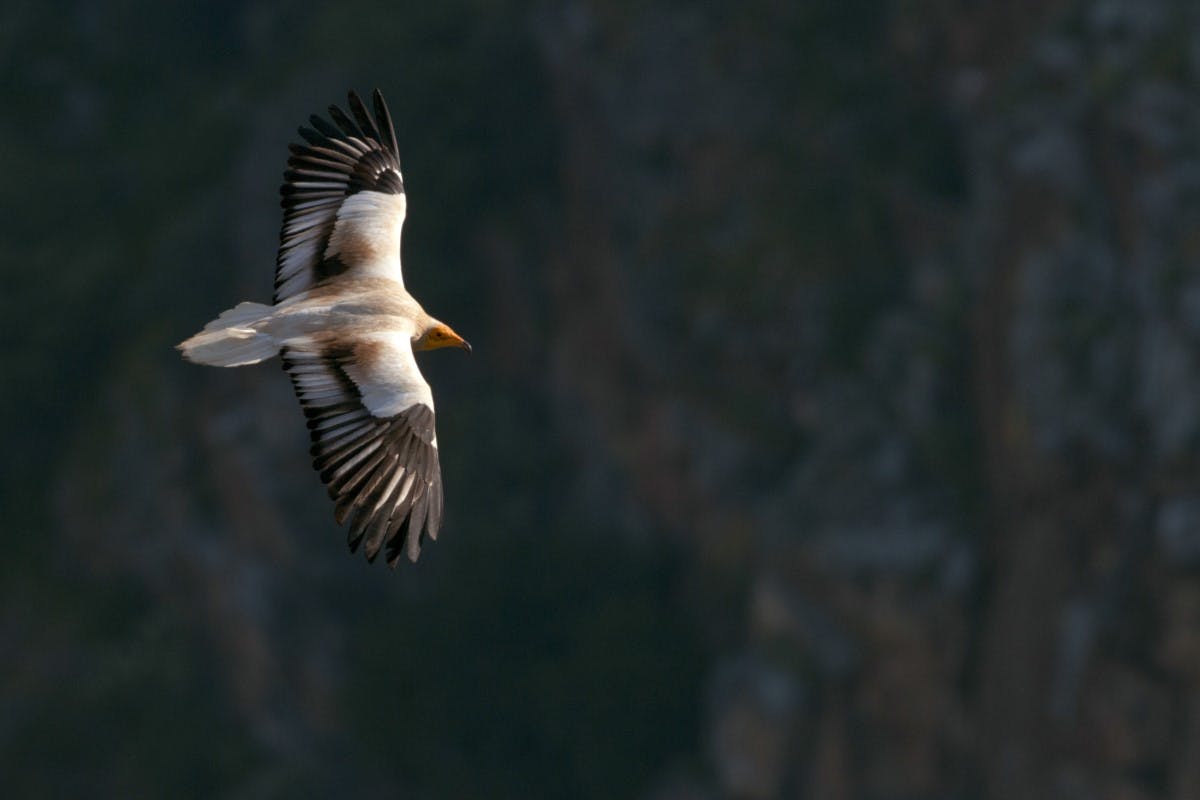 Black Vulture
The Black vulture is one of the two largest vultures in the world, attaining a size of up to 14 kg in weight, 1.2 metres in height and boasting a whopping 3 metre wingspan. The Black vulture is distinctly dark, with the whole body being dark brown excepting the pale head in adults, which is covered in fine blackish down. It is a bird of hilly, mountainous areas, especially favouring dry semi-open habitats such as meadows at high altitudes. They are always associated with undisturbed, remote areas with limited human disturbance. In contrast to the Griffon, they are a solitary bird, largely being found alone or in pairs.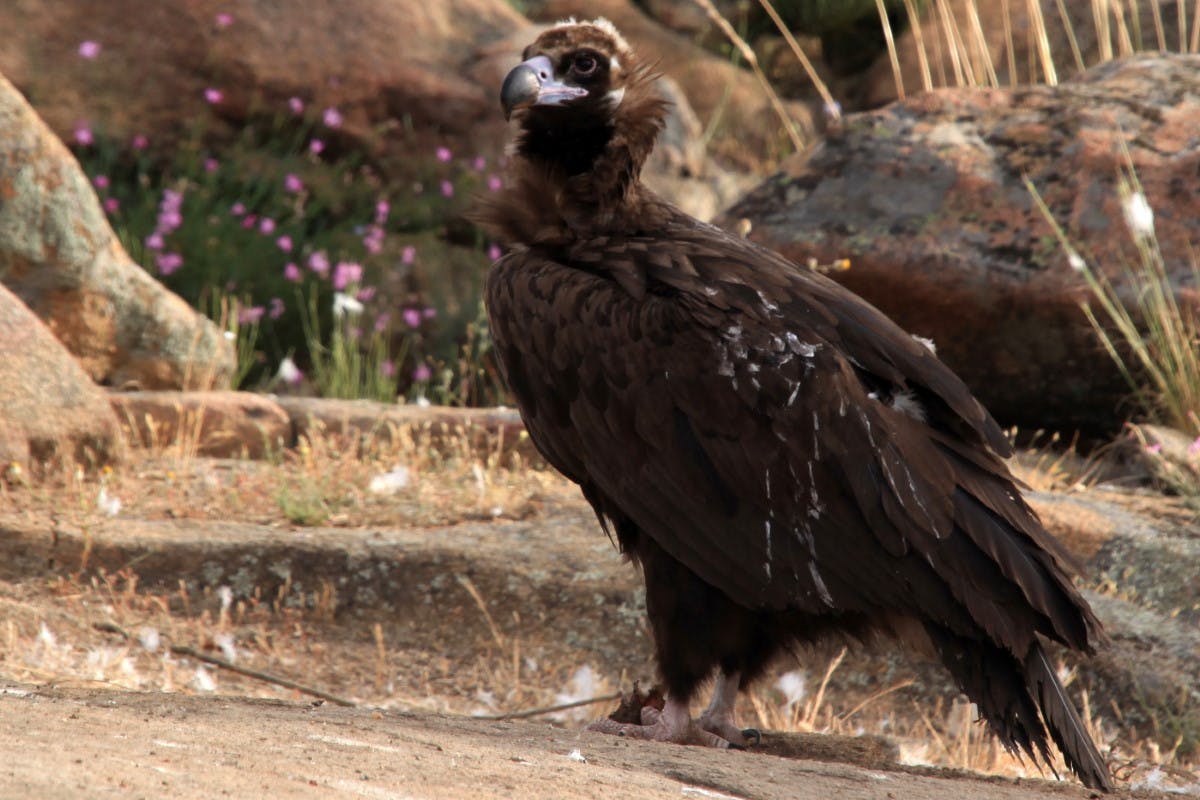 Conservation Status & Threats
Griffon vulture is classified as Least Concern, while the Black vulture is classified as Near Threatened (NT), on the IUCN Red List.
Threats
Poisoning after illegal use of poison baits targeted at large carnivores (e.g. wolves, jackals) to protect livestock and game.
Lead poisoning by hunting ammunition
Reduced food availability
Direct persecution
Electrocution end collision caused by electric transfer networks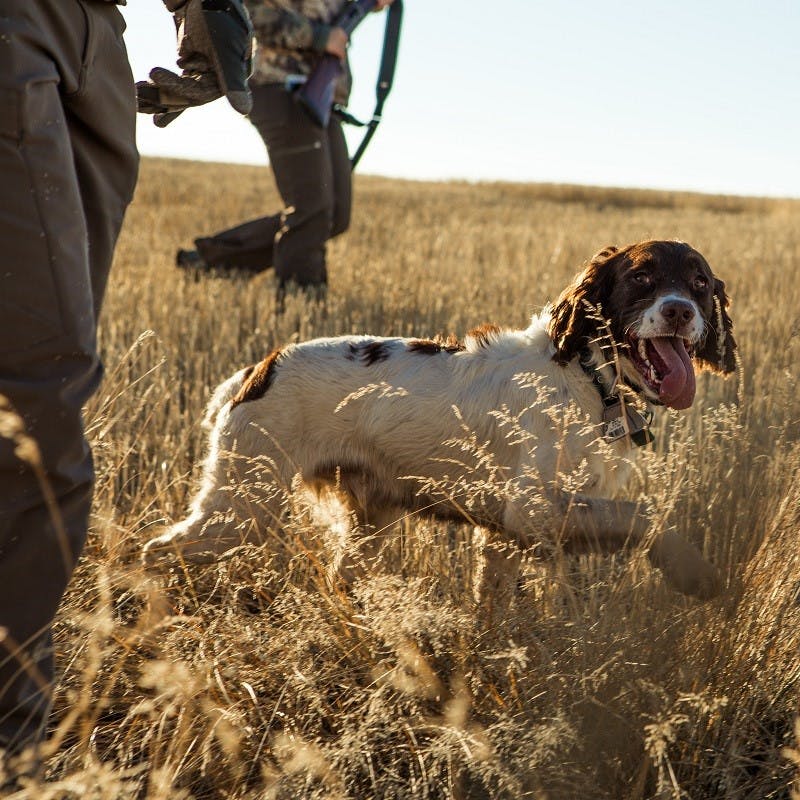 Rewilding Solutions
Supporting the comeback of vultures in this area of Portugal is not only good for nature itself, but great for the area's thriving nature-based economy too. The 200km long Côa Valley Grand Route takes hikers, birdwatchers and wildlife enthusiasts passed our plantation area, allowing them to see the vultures first hand.
Through our rewilding interventions we are looking to:
Build nesting platforms in the Côa Valley
GPS tagging to understand feeding patterns
Gathering camera trap footage that help track population numbers
Maintain feeding stations
Cover veterinary costs for injured vultures
Help maintain the valley's pigeon lofts
Assist with ongoing research into their behaviour and migration patterns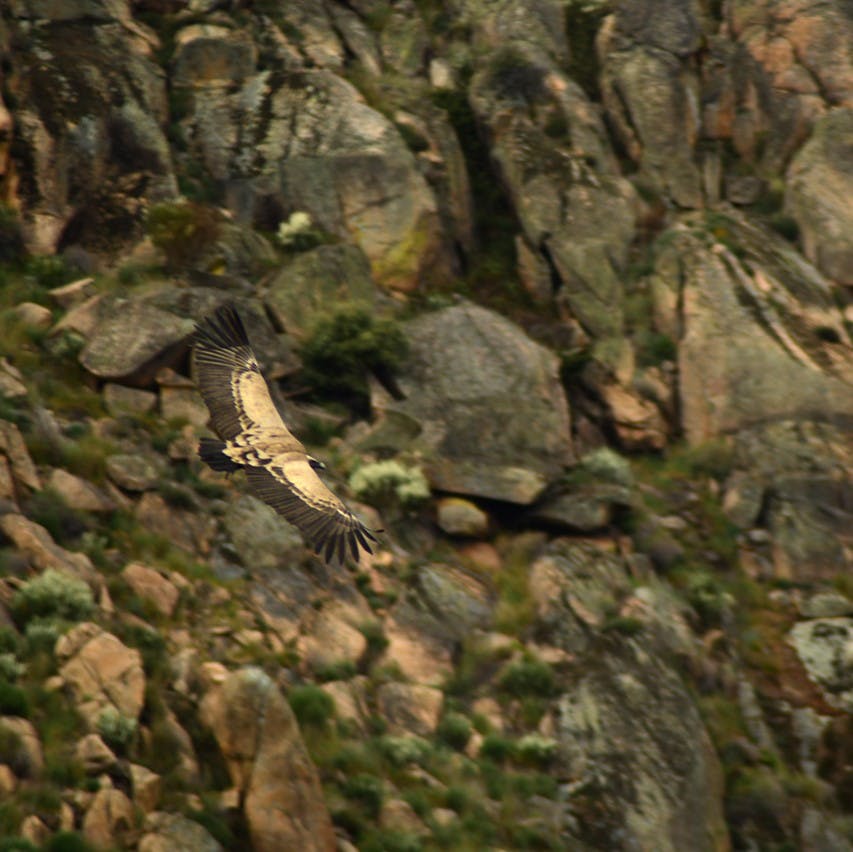 The Eagle Has Landed – A Success Story
Not strictly vulture related, but worth sharing. – An Iberian-imperial eagle, classified as one of the most endangered birds of prey in Europe, was recently spotted in the municipality of Miranda do Douro, which means that this "rare bird" may be back in the territory of our Wildfire Restoration project. In the late 1970s and early 1980s, the breeding population of the Iberian-imperial eagle disappeared completely from the North of Portugal.
There are just 17 pairs of imperial-Iberian eagles nesting in the South of Portugal, and this sighting may mean that the number is increasing because the bird sighted was juvenile. The sighting was captured by a camera trap close to our plantation area by our conservation partners Palombar researching the field of feeding necrophagous birds.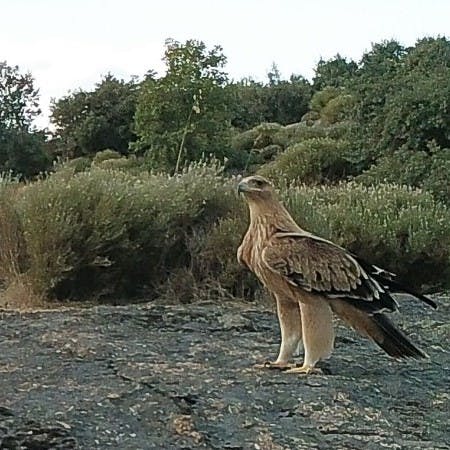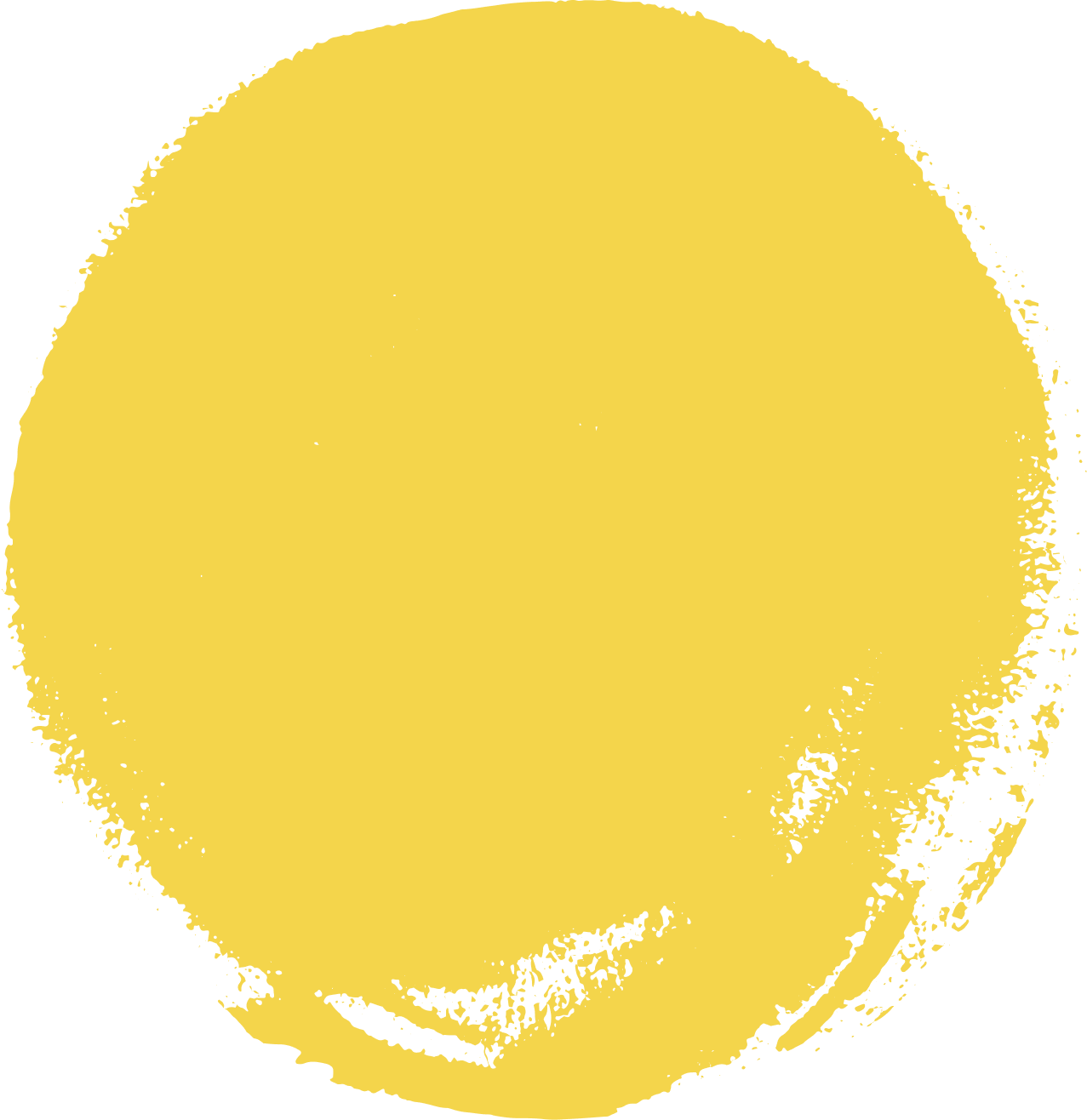 Vultures
In the Douro Valley, Portugal
Sources & further reading