written by

Ioana Mihala
Reading time: 5min
Table of contents
The aurochs (Bos primigenius) is an extinct species of large wild cattle that roamed across much of Europe, Asia and North Africa for about 2 million years. Being a keystone species for many ecosystems, it is seeing a comeback in many European areas in an effort to help rewild the continent.
A super cow from the past
The auroch was one of Europe's most important mammal; traces of the animal date back to ancient cave paintings and greek mythology. It played an important role in the development of agriculture, which began some 10,000 years ago. However, domestication, hunting and habitat degradation had already led to a decline of the species in the 13th century. With time, their range was further restricted, leaving only a small population in Poland's Forest of Jacktorów, which became extinct in 1627.
What were the traits of this magnificent animal?
The auroch was the continent's heaviest land mammal, with bulls weighing up to 1000kg and an average height of 1.60 m to 1.80m. Despite their size, they were agile animals and their long, thick horns (over a metre in length) provided powerful means of defence against predators. They lived in herds of up to 30 animals and had a lifespan of 25 to 30 years. 
Aurochs were able to adapt and live in various ecosystems across Europe including swamps, forests, steppes and mountains. Their diet consisted of grasses, herbs, leaves, foliage, and acorns in winter.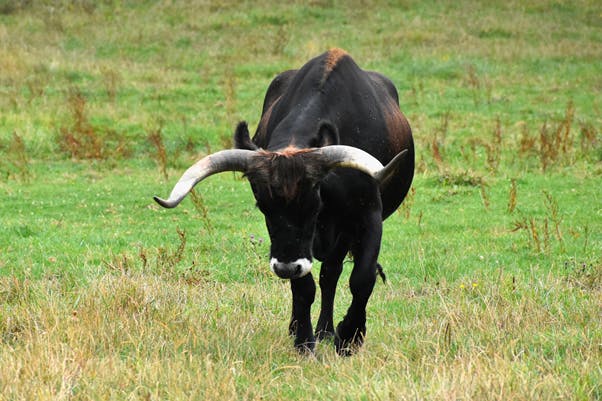 A keystone species
What makes the aurochs so special? For many thousands of years, Europe's lands have been grazed by wild herbivores like the aurochs, bison or wild horses. These were slowly replaced by domesticated livestock herds, which occupied much of the landscape. The recent decline in animal husbandry means animal grazing and herbivory has been lost from much of the landscape, which poses a great threat for the survival of these habitats. Grazing plays an important role in maintaining biodiversity, as it keeps parts of the land free from forest, therefore providing open habitats for a number of plants and animals. The auroch, or rather its descendent, fills this role of maintaining or in some cases recreating a wild mosaic landscape perfectly.
"We thought we needed a grazer that is fully self-sufficient in case of big predators...and could do the job of grazing big wild areas [...] We reasoned that this animal would have to resemble an auroch." Ecologist Ronald Goderie, Tauros programme
Besides grazing, these "ecological engineers", help other species of animals, plants and insects thrive: the disturbed soil after grazing and the trampling makes space for pioneer plants. Smaller herbivores such as deer can find protection from predators in auroch herds and birds can feed on cattle insects or use the fur to build nests.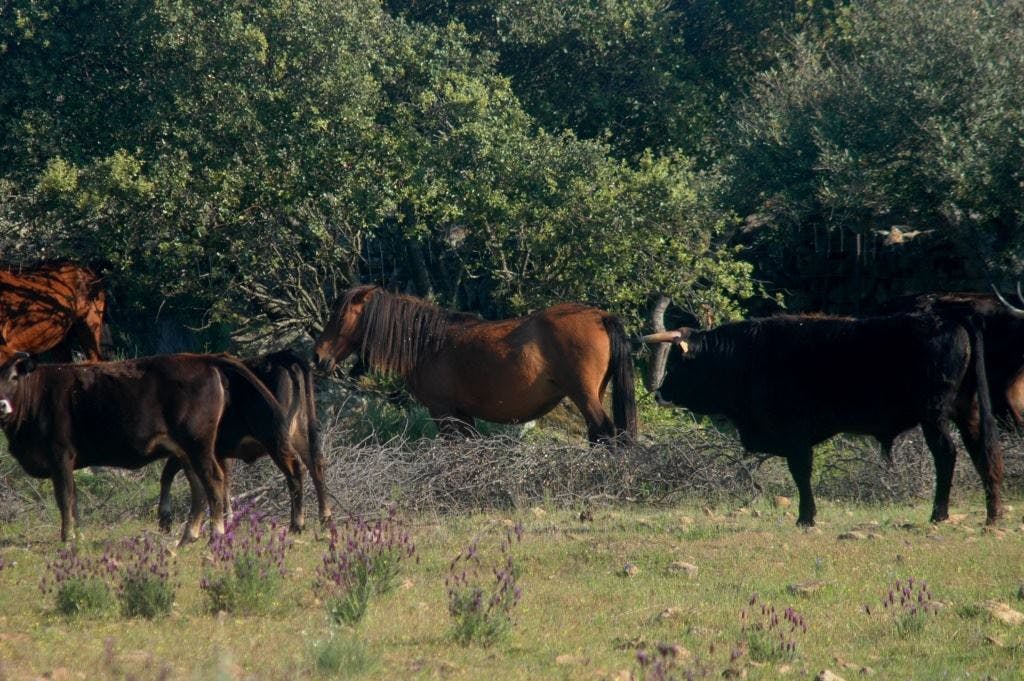 Return of the aurochs
The aurochs filled an important role in Europe's ecosystems and, though they have gone extinct, their genes are still present in modern cattle. Scientists have been trying to bring them back to life via a process known as back-breeding, a process of crossbreeding domestic cattle with similar characteristics to their auroch ancestors. These include large stature, long legs, a slender and athletic build, horns curving forward, black coats in the males and reddish brown ones in females.
The first attempt to bring back the auroch was made in the 1920s by German biologists Heinz and Lutz Heck. The result was a breed called the Heck cattle, with some resemblance to the original species. Today, rewilding projects are using a variety of domestic cattle breeds to fulfill the role of the auroch, like Heck cattle and Highland cattle. More recently attempts have been made to achieve a breed that is closer to the auroch.
The dutch-based Tauros Programme is the largest initiative so far. Breeding of Tauros is happening in six different countries: Spain, Portugal, Croatia, Czech Republic, Romania and the Netherlands and in 2017 there were more than 600 animals, of which 400 are part of the European Wildlife Bank.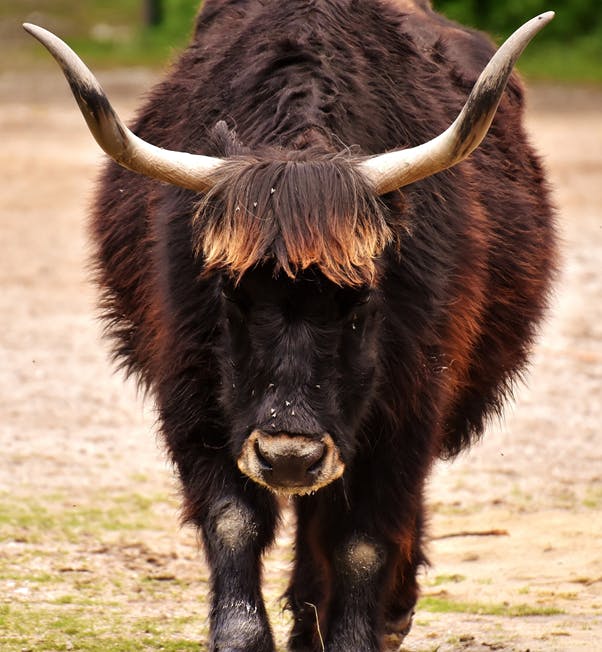 A free roaming bovine
Though a domesticated breed of cattle, these taurus will act very much like their wild ancestors. They will be a free-roaming, self-sufficient herbivore grazing in large herds and restore the wild landscape and enhance biodiversity . They have the ability to defend themselves from predation by carnivores such as wolves and bears but some will inevitably be preyed upon by wild carnivores thereby restoring natural food chains.
The process of reintroducing a species is slow, however existing initiatives show it is possible. We hope to see more and more of these magnificent free roaming bovines roaming the lands of Europe.
Sources & further reading