We have made it part of our mission to deliver transparency through technology. This means that we do our best to develop the tools our members need to evaluate the impact of our rewilding and reforestation efforts for themselves. Being open and transparent in this way helps us develop trust and to get members engaged with our projects at a deeper level. Here we explain the different measures we take for this to work.
Tree Photos & GPS Coordinates
Each and every tree we plant is photographed and the GPS coordinates taken. They are then given a tree ID and assigned to a member or customer. The tree photos are stored alongside detailed polygon data in our open tree database, which is currently undergoing some maintenance. Presently, members can see the trees they have planted in their account and we hope to re-release the public database in the coming months.
Our aim is for users to be able to see all the trees assigned to a specific polygon, to report the planting density for each polygon and thus allow users to verify if these two match up. Furthermore, there is always the option to go and see the polygon and even visit the trees planted in person. Some of them are quite a way out there in the wilderness but it makes for a fun hike!
To ensure additionality, we always finish assigning each batch of trees before moving on to the next batch regardless of when the trees were planted.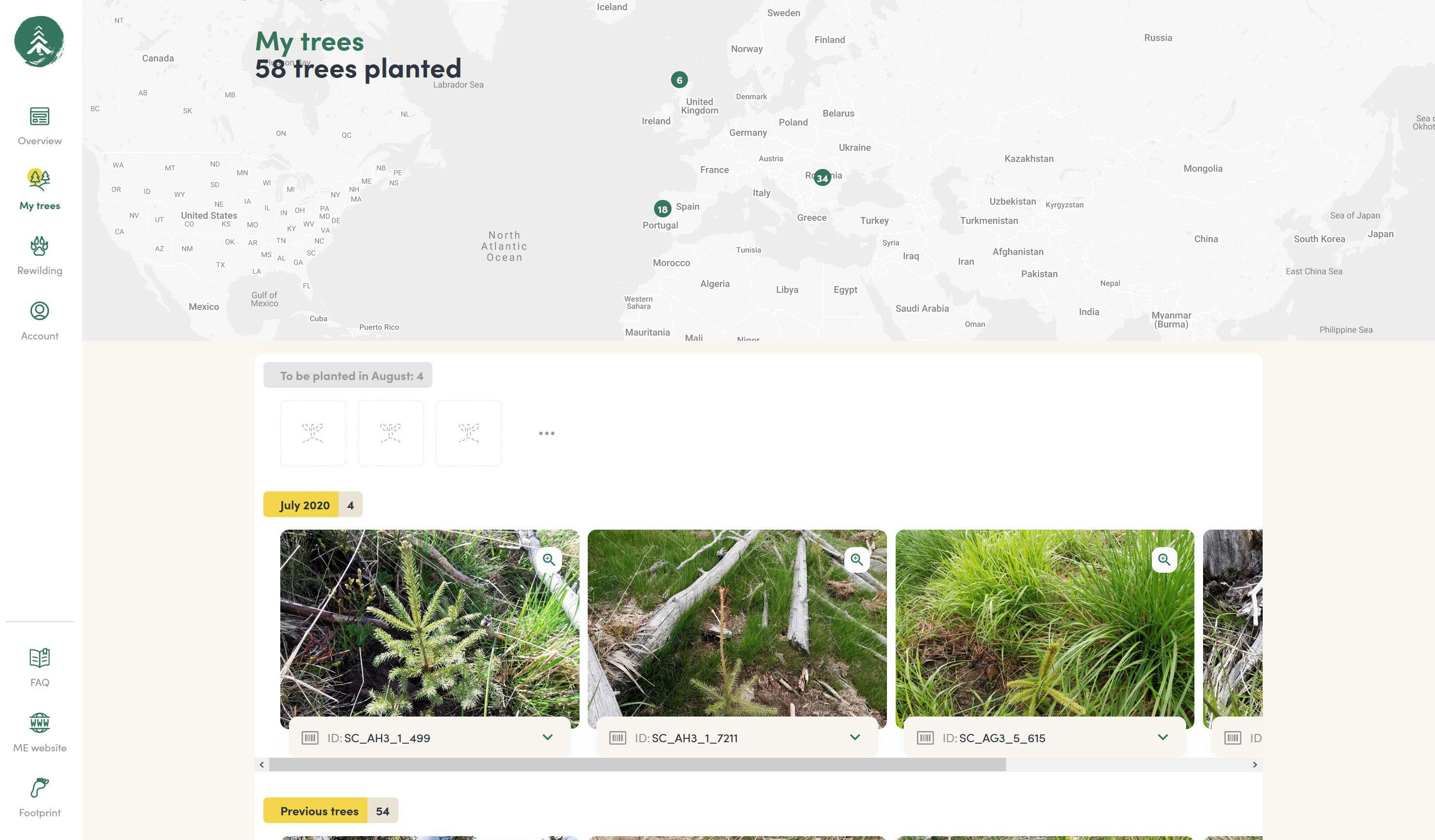 Planting Polygons
All of our planting areas are mapped and the polygons are stored in an internal database alongside tree numbers, planting dates and species lists. These detailed polygons are then uploaded to the online project maps and can be found on each of our project pages. A link to the relevant planting polygon is also provided alongside each tree photo in the member database. To make sure our members have everything they need to locate their trees, we also include the polygon ID in the tree ID.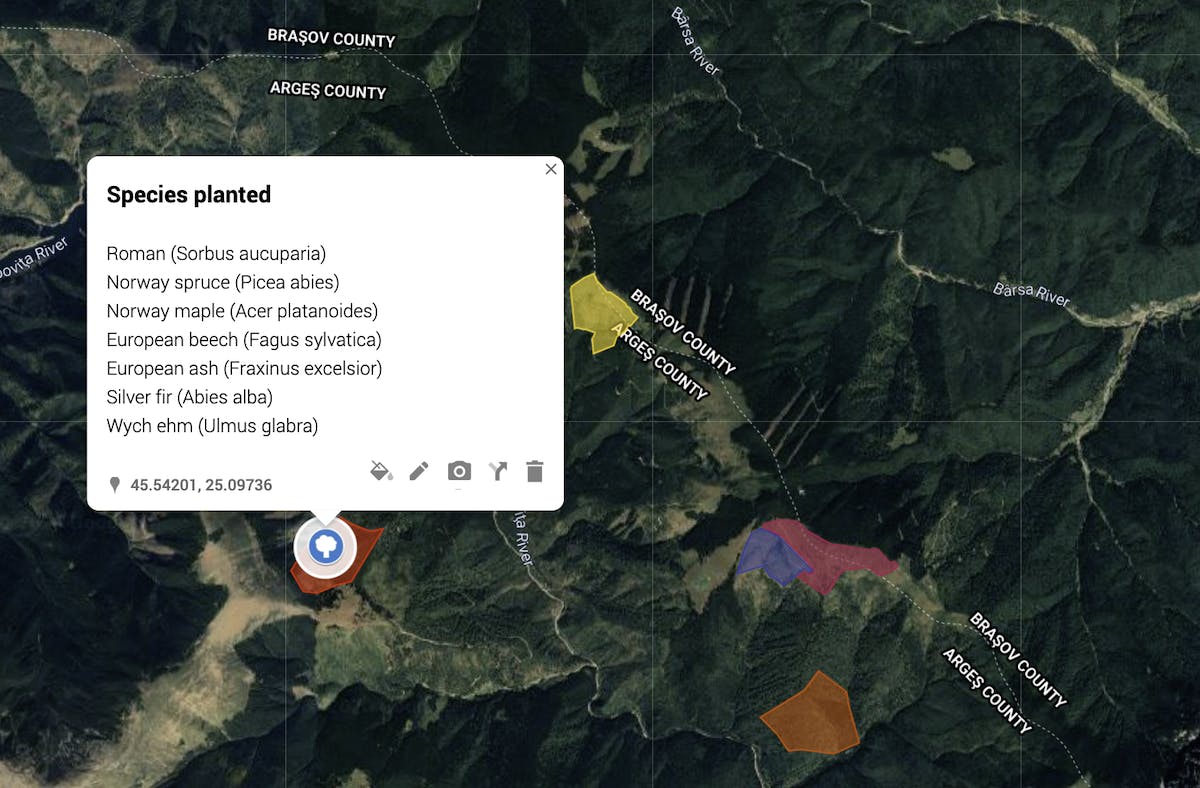 Before & After Photos
We provide a sample of photos of the newly planted saplings within each of our polygons on our online project maps. After a certain amount of time, depending on growth rates, we will revisit the planting areas and photograph a sample of trees to capture the visual changes since planting. This will allow our members to check on the growth and health of the trees they helped to plant. In the future, we hope to expand on these visual monitoring techniques through the use of drones, 360 cameras and satellite imagery.
On the ground updates
Every reforestation and rewilding project is an ongoing story and an important part of being transparent is keeping our members up to date with what is happening in the field. Updates can include recent camera trap footage of the local wildlife, a new podcast with someone that's involved with the project or a simple description of progress. We strive to give you a clear picture of what is happening and the team is always available to answer any questions as they come up.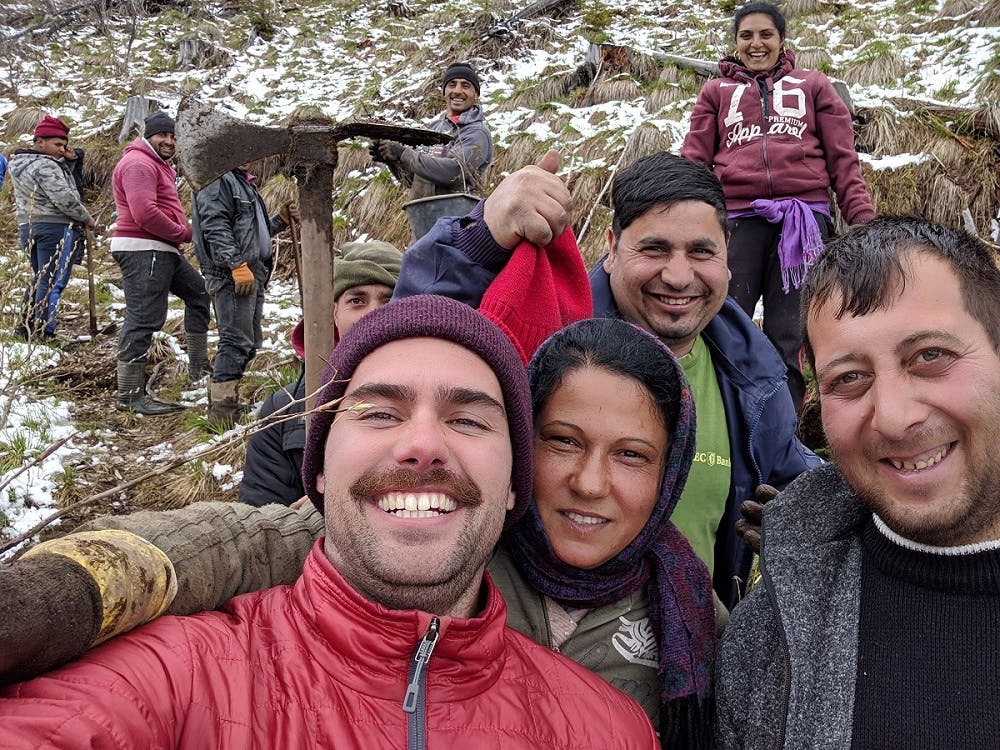 It's a work in progress!
There is still plenty of work to be done to get to the level of transparency we hope to have. For now, if you have any questions or would like to book a call with us simply reach out to us on livechat or by email and we will get all your questions answered. Here is a list of all the features we are working on releasing:
Finish the open database front-end so we can relaunch iton the new website
Sattelite imagery for carbon monitoring
More accurate polygon data and an interactive map
Overlaying 360 imagery with polygons and the map